'
Voice-Overs
Voice overs can be used to narrate what is happening in the screencast using the Start Voice Narration Recording button. The method is as simple as recording what you want to say while watching the video that you have created play. In this way you may not need to do any scripting. However, you will have to wait to do most voice-overs of this type after the video has been edited.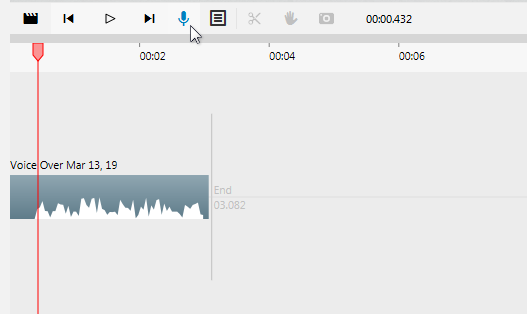 Position the timeline indicator where you want the new voice over object to appear.

Click the [ ] button in the menu bar above the timeline. This will immediately start the recording and the button icon will change to the Stop icon [ ].

Begin your narration.

End the narration. To do this, either clicking the Stop icon [ ] or the recording will automatically stop when it reaches the end of the current video content. In either case, an audio object will be added with the recording at the initial position of the timeline indicator in Step 1.

Adjust the controls in the Volume control panel.Voice-over objects will default to having no fade in or out so as not to obscure any portion of the recording.
---