'
Record Your Microphone
The Microphone option allows you to record sound.
Most often this will be narration but it can be anything that is necessary for your production.
When the option is turned on (Figure 1) the Record screen will display a red soundtrack audio wave just above the Record button (as long as the recording device in the preferences is on/available).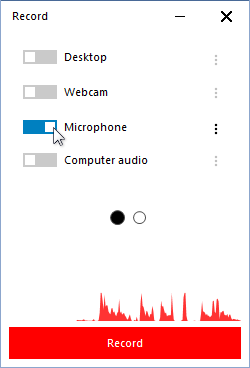 Clicking the preferences button to the right of Microphone [ ] will open the preferences pop-up in Figure 2. This screen will allow you to choose the audio Format (click to use the drop list), the recording device (click to use the drop list of available hardware) and the Volume (use the slider or click the percentage to enter a number). After entering your options, close the pop-up by clicking the options button again.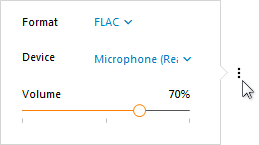 Once the preferences are selected, begin recording as per the instructions in The Recording Process.
---